20 Apr

Michael Mjomba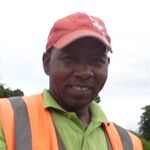 Demonstration and Training Farm Manager
Michael joined The Haller team in 2008, but has worked with Rene Haller for over 30 years and during this time, has gained extensive experience in the community outreach training programme and the excavations of : Water Pans, Wells and Eco Sanitary Facilities.
He has an in-depth knowledge and understanding with the communities and is now responsible for innovation and the training of smallholder farmers.
He also co-ordinates the Farmer Training program, environmental activities and ground implementation with the grass root farmers.