19 May

Our History
The tree and the millipede
Dr. René Haller first came to Africa in 1956 to manage a coffee plantation near Kilimanjaro. In the 1960's he was hired by The Bamburi Cement Company to set up a farm to grow fruit and vegetables to feed and nourish employees.
In 1970, Bamburi wanted to begin to repair the damage to the landscapes caused by quarrying and allowed him to access acres of it's disused limestone quarries. It was wasteland: abandoned and forgotten. But Dr. Haller believed he could bring life there again. To begin with he planted 26 different types of tree to see if any could survive on the desert like landscapes. Most failed to hold as their roots were too weak to penetrate the surface. Only three survived and the Casuarina appeared the most robust. In order to strengthen the tree's roots he introduced nitrogen-fixing microorganisms taken from healthy trees and soon they began to grow. However, the pine needles they shed were full of tannin, and didn't decompose which meant soil didn't form. One day Dr. Haller observed red-legged millipedes feed on these needles, digesting them and secreting droppings that ultimately formed soil. He decided to introduce millipedes into the quarry. They began to break down the pine needles and after five years, as the Casuarina trees spread, the ground beneath them began thickening with nutrient-rich humus. Within ten years, the Casuarinas were thirty metres high and Dr. Haller began to harvest them and to plant indigenous species introducing animals who would help disperse seeds.
Today, Haller Park – as it is now known – is home to a million trees, monkeys, birds and insects. 30 species identified by the International Union for the Conservation of Nature (IUCN) as endangered flora and fauna can also be found there, symbolising a miraculous cycle of regeneration: A forsaken place where once nothing grew is now a refuge for living things.
Man had taken life from the land. But now man had used nature to return it.
Dr. Haller holds a Global 500 Award by the United Nations Environment Programme (UNEP) for his outstanding contribution to the environment.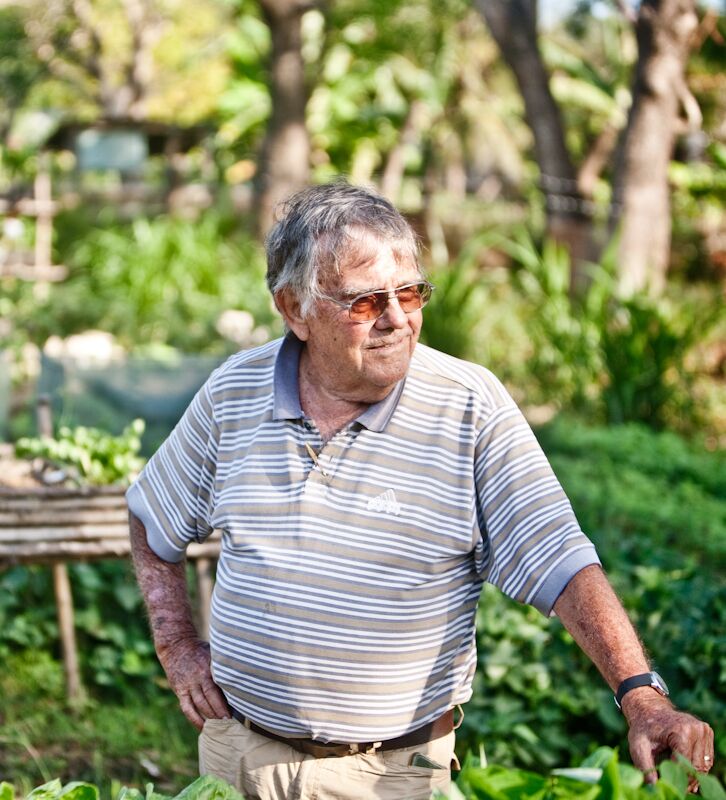 Dr. Haller's vision wasn't just for ecology, but also for the local economy to grow, convinced that both could work in harmony. During Dr. Haller's management, the park was environmentally and financially sustainable. 46 natural business streams generate income to support the forest – including, fish farming, beekeeping, poultry, eco-tourism and other sustainable wildlife practices.
It was this model for sustainable living and the balance between ecology and economy that captured the attention of Julia Hailes MBE and Louise Piper. They co-founded The Haller Foundation in 2004 as a UK registered charity which aims to build on the lessons learned in the rehabilitation of degraded landscapes, and use his ecological approach to help the millions of smallholder farmers living on depleted soils across much of Africa, transform their livelihoods in environmentally sustainable ways.
Dr. Haller believes that people will not protect the environment 'for tomorrow' if they do not have food on their plates today. On that basis, we strive to unleash the potential of local economies by promoting a model for development that is both sustainable and environmentally sound.
Haller has worked with thousands of Kenyans to help them lift themselves out of poverty. By building on Dr. Haller's research and philosophy, we kick-start fragile rural communities by equipping subsistence farmers living on dry, eroded land with WASH Programmes and the knowledge to harvest water, rehabilitate the soil and farm sustainably so they can become self-sufficient and generate a livelihood. It is not a model based on financial aid – rather we help communities to achieve self-sustainability by rejuvenating their land, enabling them to grow food and generate a source of income. Over this period we build the foundations for a sustainable future. And then once the community reaches agreed milestones we gradually step away. Many communities have now moved beyond this support structure and are going from strength to strength.
We apply a similar holistic approach to our work in the city. As Mombasa has urbanised, its population has surged and thousands of people now live in informal settlements well below the poverty line. We provide infrastructure that helps these densely packed communities build capacity and resilience.
But while our work address immediate challenges, it is under-pinned by long-term thinking.
The Nguuni Nature Sanctuary is an area which provides green lungs for Mombasa offering local people the opportunity to see birds and wildlife in their natural settings. At the entrance is an Education Centre which was built in 2006 and provided Kenya's first community children's library. Equipped with an actively used IT centre and a hub for vocation skills training, it supports local schools and has seen more than 115,000 visits from children from informal settlements in and around Mombasa. This haven of green on the edge of the city also inspires them to think about the future and how to protect nature by offering a number of environmental activities and programmes. Building awareness for the need to nurture the environment from an early age is crucial because, in the words of Dr. Haller, "change can take a generation."
As well as addressing challenges such as the lack of education, we try to anticipate them. A solution to one problem can sometimes create another. For example, we help communities access clean water without having to walk for miles by installing rain-fed dams and wells. But we also know that water provides a breeding ground for mosquitos and waterborne diseases like Bilharzia. To counter this and ensure the long-term foundations are in place for healthy, thriving communities we also provide primary health care, family planning and a mobile health service which operates out of our clinic at Nguuni Nature Sanctuary. It has provided diagnostic services and treatment to over 96,000 patients since it opened in 2007.
Bamburi Limestone Quarry before Dr. Haller arrived